Dazza's Reverse head Triumph Daytona T100, 1967.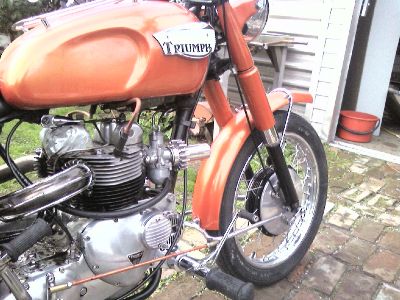 My wife bought me this bike as 6 boxes of bits, incomplete and mixed with bits from other bike models and even parts of a home garden spray system. Parts were sourced from Australia, the USA, and Canada as well as NZ over 2 ½ yrs.
Why reverse the head?
Cos I could!
Originally done as a joke, but ran so well I decided to keep it.
Is it original?
I appreciate a well done restoration, but I'm not a restorer. Apart from the head reversal and forward controls, the front half of the bike is nearly original. The rear half, on the other hand, is almost completely custom made by hand. The rear frame uses the original metal, cut apart and re-bent. The swing arm is stretched 8" (200mm) and widened 1" (25mm) to fit a 140mm rear tyre.
Inspiration?
EBay
Specs: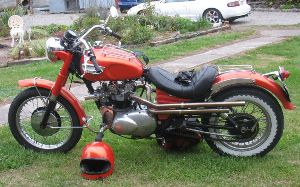 Engine; 490cc T100T unit motor with reversed head.
Cams are std, in original holes but retimed
2 x Amal 626 carbs, custom spec. (can't say I've got them quite right yet)
Custom fabricated 1 ½" stainless steel exhaust, polypad baffles.
Points ignition, but that may change.
Brakes;
Original drums, 1 leading, 1 trailing shoe each. This may change too.
Seat;
Hand made solo, covered in the leather from an old jacket.
There is a pillion pad that straps to the carrier.
Handlebars;
Full Western bend.
Paint;
4 coats Bright red Lacquer with 2 coats of gold pearl in clear over the top. Toped off with 3 coats clear lacquer.
Top speed?
Enough, and some.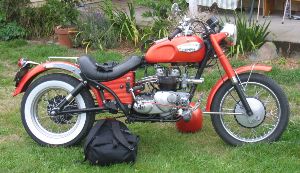 Dramas!
Cam gear exploded, luckily at idle in the garage.
First paint system wasn't petrol resistant.
Oil leaks around the pushrod tubes.
Finding bits I didn't know where missing
What's next?
Wait and see, it's under way.
Appreciation:
Thanks to Phil and Graeme for tips on the painting, and Stu for the machining. And all the other guys for their creative input.
Thanks to my wife for allowing me the time in the shed.